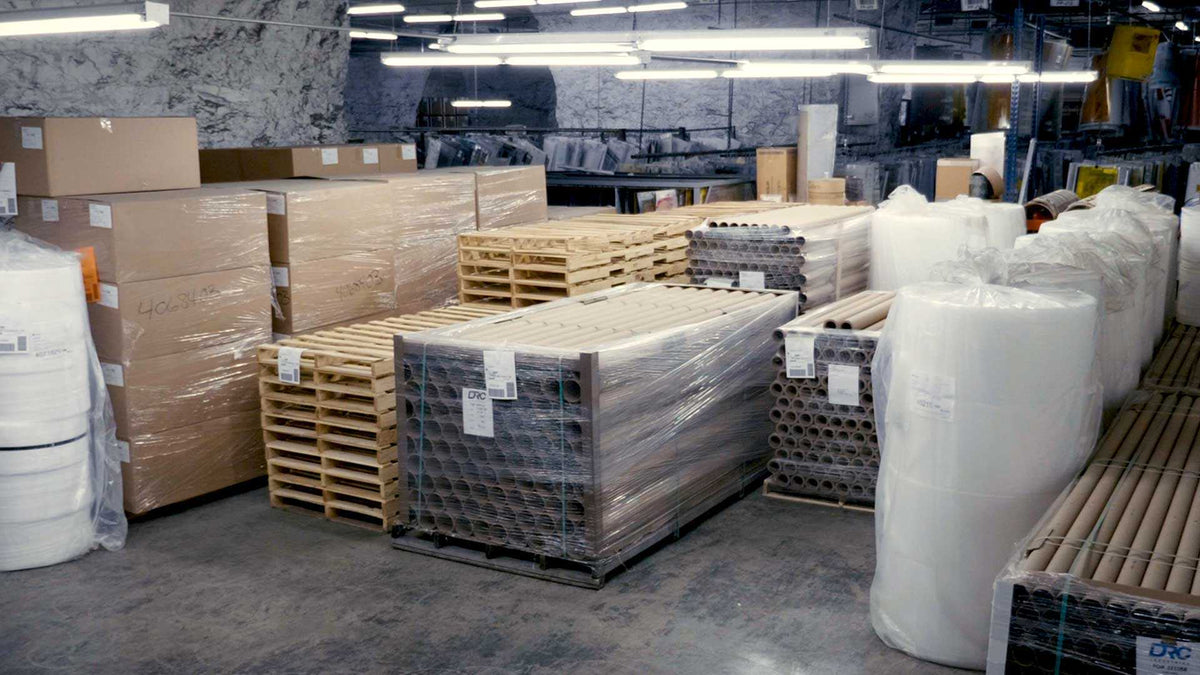 Packaging Supplies: The Complete Guide
The Complete Guide To Packaging Supplies
You've got a project in motion, but you realized you need help choosing the best Packaging Supplies solution for your project. Why not consult with a Packaging Expert about the best way to optimize your space, material, and cut excess waste and costs.
Choosing the right packaging supplies for your project is crucial to eliminate inefficiency, protect your products, and ensure a safe delivery.
A packaging partner can simplify your supply chain, and open up new business opportunities.
Or sometimes you'll find you have a 911 issue, and you need a new supplier ASAP. You need a trusted partner who will be there for you and find the right materials at a last moments notice.
This guide should tell you everything you ever wanted to know about Packaging Supplies, and working with a single source supplier.
When To Use A Packaging Partner
The typical reason a packaging partner is chosen is when it's cost effective, and more efficient when compared to your in-house services. That's the right time to find the right partner.
Packaging Experts have a very specific expertise, and they live and breathe packaging. If your business is growing fast, and you need to scale, they could even be an interim solution while you reorganize.
You don't have the expertise
You don't know how to source that much material in bulk
You have a 911 request for materials
You don't want to store these materials in your warehouse
This is a short-term need, and you don't want to invest much
Outsourcing your needs allows you to focus on other matters, like your core business and your products.
Determine Your Packaging Supply Needs
What type of Supplies do I need?
Are there alternate versions of this material?
What type of product do I have?
What dimensions do I need?
How many units do I need?
What type of product is it?
Is this a food or beverage? Electronics? Is it fragile? Communicate this with your Packaging Partner and get a list of options that work well in combination with your product.
What are your dimensions?
Start by measuring the height, width, and length of your product and everything you plan to put inside the box. Then, consider the type and size of any protective packaging inserts you plan to use. This will help determine the packaging materials you need.
Pro Tip: Minimize your materials as much as possible. This will allow the product to fit safely, and avoid any shipping damages. Most importantly you will reduce your costs and carbon footprint.
How many units do you need?
How much do you plan to sell? Do you need 100 units? 500? 1,000? 10,000? Will you need recurring orders? This will directly affect your costs, and the more you order the better the deal you can get.
What type of Supplies do you need?
The type of packaging you need will vary depending on your product. This will be based on the size, shape, and weight. If you have a fragile product, you would need to consider a solution that is structurally safe and includes cushioning.
Establish Your Packaging Supply Budget
There are two types of costs associated with new packaging.
Visible costs: such as the upfront cost for the material itself.
Hidden costs: such as additional filler, breakage, and more.
Your budget should include the cost of Packaging Supplies and Shipping Boxes. If any kind of packaging fillers are required, you need to account for them.
You can also include a Contract Packager to help with fulfillment or assembly.
By using a company like Bennett, you get Turnkey Solutions that help you minimize costs. 
A successful Packaging program needs a budget that considers the economics of the entire process. You should consider the price of your product, your profit margin, anticipated sales, and the length of time you expect your Packaging to be in place.
Setting a budget or at least a range for your Packaging helps the process not become inefficient or aimless.
Volume purchasing
As with most products, you only really get a good value at high purchase quantities, due to the economics of scale. If you don't buy in bulk, each material order will increase the expense to each shipment.
If you buy in bulk, you will not only be putting more money up front for production - but also for storage, transportation between warehouses and handling.
The higher the sales price of your product, the more you should consider investing in your packaging supplies.
A Packaging Partner Reduces Costs
The biggest benefit of an outsourced operation is reducing your overall costs of operations. A great partner can take on any packaging request, and process them in their own warehouse. If they don't have it in storage, then they'll know where to source it.
If you can source supplies and materials from someone with experience, they probably get better deals buying in bulk.
A Partner Helps With Customer Demand
Do you need to ramp up production fast?
Is there an opening in the market that you want to capitalize on? Do you want to move your operations to a consolidated partner?
Is the market taking a turn and you need to rethink your product?
When economic times get hard, customer expectations can go up, and it's up to you to bring better experiences to your customer.
Retailers who outsource can help reduce their carbon footprint in more ways than one, and green encourage purchases by advertising a more eco-friendly approach to their supply chain.
By using a Packaging Partner it's easy to make these kinds of quick moves, instead of investing into all of it yourself. One phone call and they'll make the adjustments, and be ready for you when you're ready.
Capitalize On Their Expertise
Because they're focused on one aspect of the business, and they are working with a range of industries, they're likely to be experts about their entire supply chain, and how they can help yours.
And it's not just about the packaging itself, often they are experts in the most efficient way to apply labels, tape, and they're even distribution experts.
They can pinpoint areas to fix your business, and help you know what your competition is doing and maximize your market exposure.
Check out our Packaging Expert Program to learn how we saved $100,000 for a customer on their Tape alone!
A Packager is likely working with dozens of companies and knows exactly what machinery to use, which materials to include, and how to save hundreds of thousands of dollars.
They will go out of their way to source the best products for each operation, and will have access to an extensive network professionals within the industry.
Think about the following questions, do you know the answer?
Which Shrink Film is best for your job?
What model of stretch wrapper is right for your line?
Which tape application is better for my supply chain, hand or automated?
Can I lower my material costs by choosing a different option?
A Packaging Expert will be able to give you the exact answer.
At Bennett we are industry leaders in Contract Packaging, Shipping Boxes and Supplies, but even Retail Packaging and Displays - which means we can give you turnkey solutions and get you to market faster, and cut costs all along the way.
Focus On Your Core Business
Your primary focus should always be your product, and your business. What if you could actually focus solely on that?
They can not only manage your inventory, but give you access to it at all times so you can sleep easy at night. 
While your focus might be management, developing new products, marketing, or growing your brand in general - a Packager's focus is to give you the best quality materials for the job.
Have a 911 issue? The right partner will be there for you day and night.
Improving sales, marketshare, efficiencies, and knowing that you had a partner who was helping you achieve all of that extremely efficiently.
Talk about a great imagination!
Imagine spending your time only on your business.
Key Things To Keep Track Of
Track if you have enough packaging to meet demand. It's crucial to keep a tight inventory on the packaging you have at your fulfillment center, and whether it is enough to meet the demands of the season.
Did you ever run out and have to purchase more? Did that incur any delays and costs?
Did you have a surplus? Was it of only certain sizes?
Try to keep track and keep packaging inventory levels in line with demand.
Record Breakage
Were your shipments kept safe? This is the priority for any fulfillment center. You should set a tolerance level for the amount of breakage that you can absorb, and then track whether you are meeting that goal.
If you aren't, you should consider adding more packaging filler, or using a different carrier.
The right partner will have experience in your industry.
Bennett Provides Packaging Supplies
Bennett is a premier packaging and retail displays manufacturing company striving to protect and promote our clients' products with customized corrugated solutions. When you work with us, you're part of the family. We will partner with you every step of the way.
With our fully-integrated design-to-delivery process, we can be the single supplier source. We are an award-winning manufacturer of virtually anything corrugate. We offer everything from plain brown shipping boxes to sophisticated, high-graphic printed point-of-purchase displays, and everything in between.
Frequently Asked Questions
What are Packaging Supplies?
Packaging Supplies are the various materials used in the process to contain, protect, preserve, transport, inform, and sell your products and services. They can be anything from filler material inside of the packaging, to shrink film, or even the pallets used in transportation.
What Supplies do you have?
Check out our Packaging Supplies page for more information about what we offer.
Do you have more than one location?
Yes! We have facilities across North America. Take a look on our Contact Page for the locations.