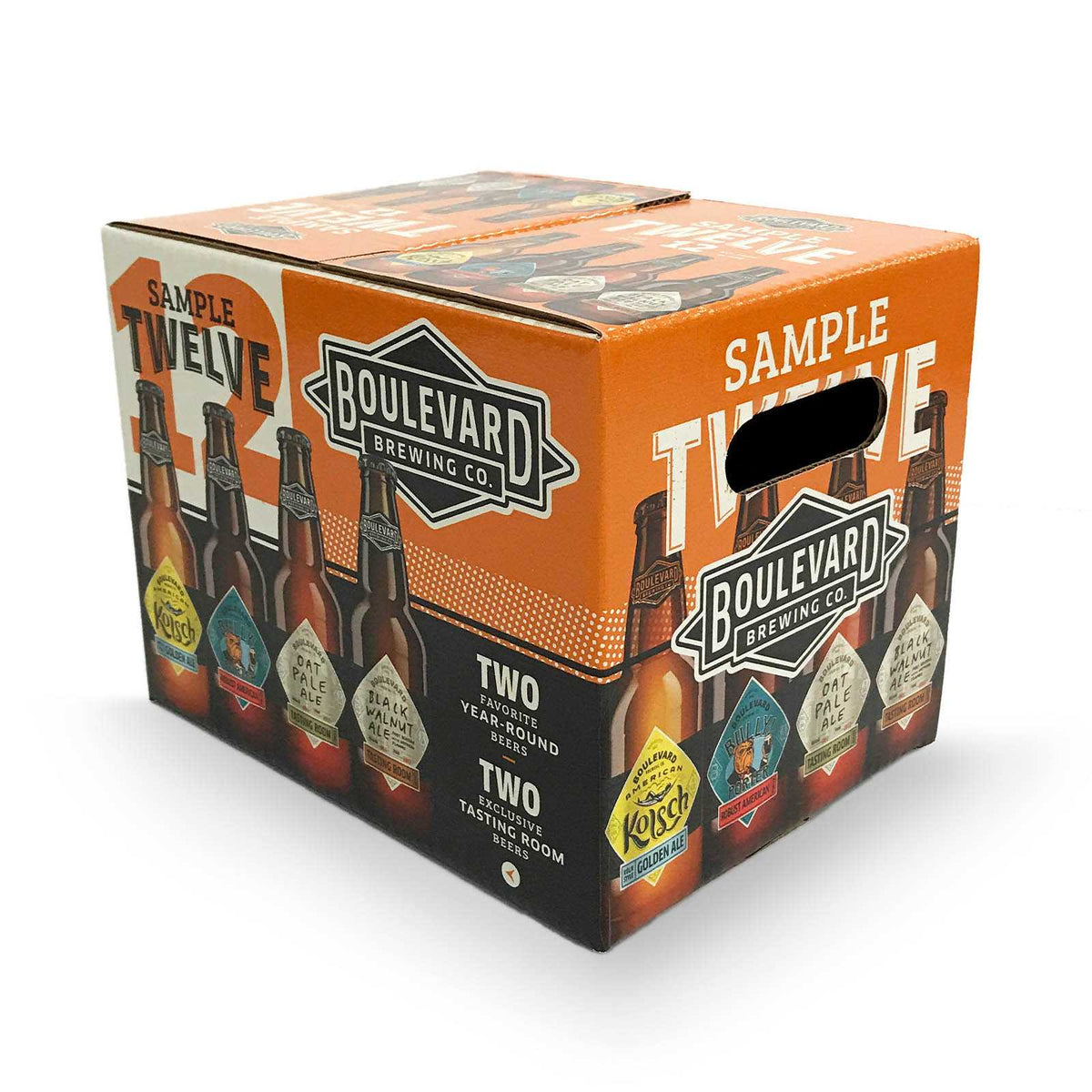 Craft Beer Packaging: The Complete Guide
The Complete Guide To Craft Beer Packaging
We see this a lot: simple, non-custom Beer Packaging that gets the job done. How can you expect to hit your sales target if you don't invest in your presentation at the store?
You have a great product, but you left out one thing - your Packaging! Beer Packaging is a great way to grab your customer's attention at retail and even online. It's an easy thing for most brands to overlook, but this is exactly the issue we aim to solve.
The U.S. has more than 3,000 breweries producing about 30,000 unique beer styles - talk about a crowded shelf. A saturated market with limited marketing dollars, makes your packaging more important than ever!
Design is everything in Beer Packaging.
We help upgrade brands from plain to premium, and take advantage of all the latest technical and marketing innovations to create new designs, and more importantly increase your sales.
Bringing new packaging ideas to life can be a challenging task. That's why we created this guide to walk you through each step.
Talk with our team today about your next Beer Packaging Project
How Beer Packaging helps your product
Protect your products during shipping
Tell your brand story and connect with your customer
Include product benefits and valuable information
Stand out to a consumer to increase their consideration
Encourage customers to take a closer look
Step 1: Determine Your Packaging Needs
What type of Packaging do I need?
Are there new innovations I can implement?
How many units do I need?
How can this be an extension of my brand?
Step 2: Establish Your Budget
Setting a budget or at least a range for your Packaging helps the process not become inefficient or aimless.
A successful Wine Packaging program needs a budget that considers the economics of the entire process. You should consider the price of your product, your profit margin, anticipated sales, and the length of time you expect your Packaging to be in place.
Related: 5 Benefits Of Packaging Manufacturers.
Volume purchasing
As with most printed products, you only really get a good value at high purchase quantities, due to the economics of scale. If you don't buy in bulk, each package will add an unreasonable amount of expense to each shipment.
If you do buy in bulk, you will not only be putting more money up front for production, but also for storage, transportation between warehouses and handling. Digital allows you to have complete flexibility for this.
The higher the sales price of your product, the more you should consider investing in your Beer Packaging.
Step 3: Assess The Beer Competition
Because of the competition in the industry, you need to make sure your choices standout in a lineup.
It's definitely become a growing challenge over the years to penetrate the market - but it can still be done!
What they don't have is the chance to design with the latest innovations - taking opportunities to connect with your customers in completely new ways and actually create a new level of customer loyalty.
Step 4: Designing Your Beer Packaging
Did you know that 75% of consumers are influenced by package design?
Designing can be a fun process. Whether you're tackling it or working with our Creative Services team, you need to consider key things about your beer, and your customer.
What style of beer are you selling?
Who is your target customer?
How / where are they buying it?
Next let's dig into what you need to include:
What brewery made it?
What style it is?
Information about your beer (the name / flavor / ABV)
Related: How To Find A Corrugated Box Manufacturer
Now let's talk about the more brand-focused elements:
Show your personality and brand voice
Tell your brewery story with some stellar copywriting
Use the Billboard Effect: multiple packages together become an eye catching wall
Double down on eco-friendly packaging / elements
We're thirsty for a good story. Authenticity, community and sustainability are the best keywords to get you started.
Graphics need to be memorable, distinct, easily recognizable, and with easily identifiable shapes
Choose a color palette that fits your label and brand
Be prepared to go through a few iterations - it takes time to land on the "right choice"
Include time to do some market testing with your packaging and labels
Pro Tip: If you're not a designer, and don't have a design team - we provide access to our award winning in-house team in Creative Services.
Step 5: Use New Beer Packaging + Marketing Innovations
QR codes that when scanned tell consumers expiration dates, and other beer or brewery details.
Digitized printing allows for more customization and customer personalization.
Eco-friendly packaging.
Step 6: Consider A Whole Set Of Packaging
Mother Carton
A mother carton is a large container that holds standard 12-ounce bottles, and larger options like 22-ounce bottles. A mother carton is designed to hold four six-packs and features a very strong construction. It not only supports weight, but it also protects them during shipping.
Built from sturdy paperboard, a mother carton can be enhanced with graphics to match your craft brewery's branding with a variety of printing styles - more on those later. 
Can + Bottle Trays (Printed or Plain)
Trays are a great way to store, ship, and display large quantities of cans or bottles. They can be designed for stacking strength or as a display. Handles can even be die-cut into the sides for easy carrying.
You also have the option to brand these with a printing style. This provides you with a variety of branding opportunities to promote both your company and the product.
Keep the purpose of the tray in mind while designing. The more beer you need it to hold, the less flexible other options are.
Fully Custom Beer Packaging
While items like mother cartons, and trays, and other carriers dominate the market, if you want to stand out - that means you need custom packaging! Virtually any container can be custom-designed and manufactured by one of our trained team members.
Here are a few scenarios that custom packaging could solve:
Gift Packages
Seasonal or Special brews
Larger bottle options
At Bennett, we can help you design attractive packaging that keeps your beer secure, and even include openings with a die-cut, unique shapes, and even more.
Color Coded SKUs
As craft breweries have expanded the variety of beers available to customers, more brands have begun embracing a color-coding approach to their craft beer labels and packaging.
This is a great design as it keeps your look and feel consistent across your entire catalogue, but also lets the customer quickly identify their favorite beer in the lineup.
Add A Retail Display
Take your campaign and promotion to the next level with a custom designed display. Put your beer in high traffic areas and get right in front of your customer. This is a chance to get away from where your competition is, and instead have their full attention.
Step 7: Choose a Printing Style
Choosing a printing option is more than simply looking at cost factors. The technology has been changing over the years, and while some older methods are still proven and effective, newer methods have introduced completely new ways to attack the marketplace.
Here are three printing options to consider:
Lithography Printing
When it comes to commercial printing needs, lithographic printing is the most used solution. And it's great if you are creating a single design to print over and over without much customization.
One of the main issues is the upfront costs for the printing plate, and the lead time for the project.
If you choose Litho, that means you're committing to waiting and a portion of your budget before you even get your first box.
If you are looking for a high volume production run of a single design, this is the way to go.
Bennett's digital presses are game changing for the custom retail packaging industry.
While other companies might tell you that Digital isn't competitive when running large orders, what they aren't telling you is with Digital you can run a variety of designs without needing to pay for, or wait for, new printing plates to be made.
Digital has been growing in the industry, but only a few brands have actually started to take advantage of this huge opportunity.
Imagine creating regional messaging, designs for different stores, seasonal or product variation sizes - all without additional costs.
We were the first to invest in a high-speed, single-pass, direct-to-corrugate, 6-color digital press of its kind in North America. If you want to learn more, check out our page on Digital.
Flexography Printing
Flexographic printing will bring your cost of printing down, and tooling costs are typically lower. It has a fast turnaround time that can use both water and oil-based inks.
But, compared to Lithography and Digital, Flexography has a noticeably lower printing quality.
It cannot create photo quality images, and smooth colors or gradients will have visible banding. 
The colors aren't as vibrant or crisp as the other two options, but this format of printing is inexpensive. It also doesn't require a lot of attention to detail, and can be produced at very high speed.
Related: Printing Coating Options
Designing With Digital
Digital printing will take your Beer Packaging to the next level:
Color Science
Each color speaks to the customer on a different emotional level, that's something all designers know. Why not use that on the store floor? Here's an actual opportunity to put that knowledge into practice and create something that matches your brand in a powerful way. 
Match Your Brand Colors
Most manufacturers claim they will match your brand colors accurately, but they're not actually equipped to do that. We have some of the best printing capabilities in North America, and promise we can actually match with 100% accuracy. 
Customer Innovations
Include QR codes for customer coupons or marketing campaigns, regional or seasonal messaging, and a myriad of other options are now available to you.
Step 8: Creating a Dieline
Now that you have your design in place, it's time to transfer it to the structure template, a.k.a, the dieline.
There are a few dieline and artwork preparation and requirements that need to be noted by your designated designer, even if your artwork is done and ready to go.
If you do not have a designer, then your packaging company will take care of this for you.
Dielines
A dieline is typically created on a computer with a designing tool such as Adobe Illustrator, Artioscad, or Adobe InDesign. Measurements need to be precise, to save time and money.
Step 9: Preparing The Artwork
Working with your packaging partner, you will deliver high resolution quality artwork for printing. It's best if you speak directly to the company you are working with to determine the exact specifications for their CMYK printing.
At Bennett we offer access to our award winning Creative Services to help you design, prep, and deliver all your artwork to our manufacturing teams - and ensure your project details are correct every step of the way.
Pro Tip: Need more clarification on preparing your artwork? Reach out to Bennett if you need help with any of your designs!
Step 10: Creating Prototype Beer Packaging
You should always request a prototype box to confirm the structure and printing for final production, especially if you have a very large order.
Once the prototype is created it can be delivered to you in person, or via mail carrier.
We have an array of equipment in our Creative Services Department that will match the exact quality of our High Speed Digital Printers to allow you to quickly get prototypes - and move your project along to production.
Step 11: Production + Shipping
Once you finalize everything, your product packaging is ready to go into full production. You can sit back, relax, and wait for the arrival of your packaging!
Receiving your shipment all depends on your requested timeline, the size of the package, the method of delivery, etc.
It is different depending on your situation, but your account manager will keep you up-to-date with the production and shipping process, ensuring that you are always on track.
Pro Tip: If you need to order on a consistent basis, speak to a packaging specialist to map out your inventory expectations and schedule. This will make it easier to maintain a healthy inventory flow and allow the manufacturer to know exactly when you need it.
Supply Chain Solutions
Once you have your Packaging design locked and production is ready, you need to create a Supply Chain plan. You should consider the entire process from manufacturing, storage, retailer delivery, etc.
Key Questions:
What is the weight of your Packaging with your Shipping Box and Supplies?
Where will you store your Packaging?
What is the cost for Packaging Supplies?
Fulfillment costs, if any?
Are you also ordering labels?
Key Things To Keep Track Of
Track if you have enough packaging to meet demand. It's crucial to keep a tight inventory on the packaging you have at your fulfillment center, and whether it is enough to meet the demands of the season.
Did you ever run out and have to purchase more? Did that incur any delays and costs?
Did you have a surplus? Was it of only certain sizes?
Try to keep track and keep packaging inventory levels in line with demand.
Record Breakage
Were your shipments kept safe? This is the priority for any fulfillment center. You should set a tolerance level for the amount of breakage that you can absorb, and then track whether you are meeting that goal. If you aren't, you should consider adding more packaging filler, or using a different carrier.
Ice Pack Shipping
Summer shipping may need to include the use of ice packs. Ice packs cannot be simply added to an existing shipper and be effective. This will require you to create a completely different package type, costing you more money, adding the cost of the ice packs themselves, and potentially the new dimensional weight.
ISTA Testing For Beer Packaging
International Safe Transit Association (ISTA) testing helps brands to create packaging that will protect against shock, vibration, compression and any other atmospheric hazards in the distribution environment.
This allows you to eliminate the need for multiple trial shipments, and get your products to market faster, while also ensuring their survival. It can also help you negotiate lower freight and cargo insurance rates - due to the confirmed lower risk of shipment damage.
We conduct a range of shipping tests (vibration, drop test, etc.) so that you are certified and ready to go.
We partner with you through the entire process and make sure there aren't any surprises - and if there are we are ready to solve them.
If packaging is not tested and not approved by the carriers in advance, then they will not pay any damage claims. Without approval, it may also put your other approved packages at risk as well.
Bennett Makes Custom Beer Packaging
Bennett is a premier packaging and retail displays manufacturing company striving to protect and promote our clients' products with customized corrugated solutions. When you work with us, you're part of the family. We will partner with you every step of the way.
With our fully-integrated design-to-delivery process, we can be the single supplier source. We are an award-winning manufacturer of virtually anything corrugate. We offer everything from plain brown shipping boxes to sophisticated, high-graphic printed point-of-purchase displays, and everything in between.
Talk with our team today about your next Beer Packaging Project
Frequently Asked Questions
What is Beer Packaging?
Beer Packaging is what customers see before they get to see your product. Custom beer packaging incorporates your business's logo, brand colors, copy, and message on the outside of the packaging. This helps your brand stand out in stores and encourages brand loyalty.
Where can I order beer packaging boxes?
Bennett offers a wide variety of beer packaging boxes, including folding cartons, mailing boxes, and shipping boxes. No matter what kind of product you have, or box you need, we can make it. Just Contact Us and we'll get back to you ASAP!
What Printing Styles do you offer?
We are able to produce Litho, Flexo, and specialize in Digital. We were one of the first manufacturers to invest in Digital Printing, and that's put us ahead of the curve. Typically customers think Digital is only useful for small runs, but Digital allows you to create printing variations and create multiple runs of different targeted designs - using some of the latest innovations in marketing!