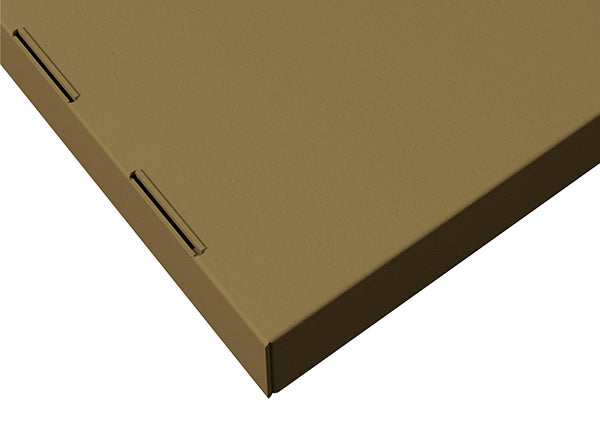 Natural (Brown) Kraft Linerboard
Natural Kraft Linerboard is a type of cardboard made from 80% virgin wood fiber, making it an excellent choice for custom corrugated packaging and POP Displays. It provides an organic look due to its natural color, while also being 100% recyclable and biodegradable at the same time, making it a great option for eco-friendly packaging.
This paperboard option is strong and versatile, perfect for various types of printing such as flexographic or litho lamination, hot foil stamping, embossing and die-cutting. It also provides superior protection to your product against dust and moisture damage due to its tight grain structure.
Natural Kraft Paperboard provides an uncoated finish that's perfect for an earthy look, making it ideal for earth-friendly branding.
Why Use Natural Kraft?
There are a number of reasons to use Natural Kraft Linerboard for your packaging or Displays. Sometimes it could be best for the print method, other times it could be to attract customers, and finally it's usually the most economical option.
Benefits
Strong and durable.
100% recyclable (depending on final inks, adhesives, and products).
Uncoated finish for a natural, earthy look.
Superior protection against dust and moisture damage due to its tight grain structure.
The most common material used in packaging.
Attracting Eco-Conscious Customers
It's a great material to attract eco-conscious customers as it's 100% recyclable and biodegradable. It also provides an organic, earthy look that appeals to those trying to minimize their ecological footprint.
Cost Effective Option
Kraft Linerboard is usually one of the most cost effective options when looking for cardboard packaging or POP Displays. That's because it's the simplest for suppliers to manufacture in corrugated sheets designed to be turned into a box. It's strong and durable enough to withstand wear and tear, while still providing a great look.
When Not To Use Natural Kraft
While Kraft is a great choice, there are certain situations where it's not a great fit. That can be anything from the printing method, artwork design, and more.
Printing Methods
Not every printing method can produce the desired colors or vibrancy when applied directly to Kraft Material. That's because the material "shows through" the ink because it is so dark. It doesn't eliminate Kraft as an option, but it should be considered when deciding on material.
Artwork Design
Another common situation is white ink with Digital Print on Kraft. Unfortunately it can show the Kraft Material through the ink, and not all customers like the look.
Do More With Bennett
So if you're looking for the perfect cardboard backing to make a statement with your product's packaging, Natural Kraft Linerboard is the way to go!
At Bennett, we have a team of experts who are ready to help you get the most out of Natural Kraft Linerboard. We offer design assistance, print surveys, and more to make sure that your project is the best it can be.
Let us help you create the perfect packaging or POP Display today!  Contact us now for more information.