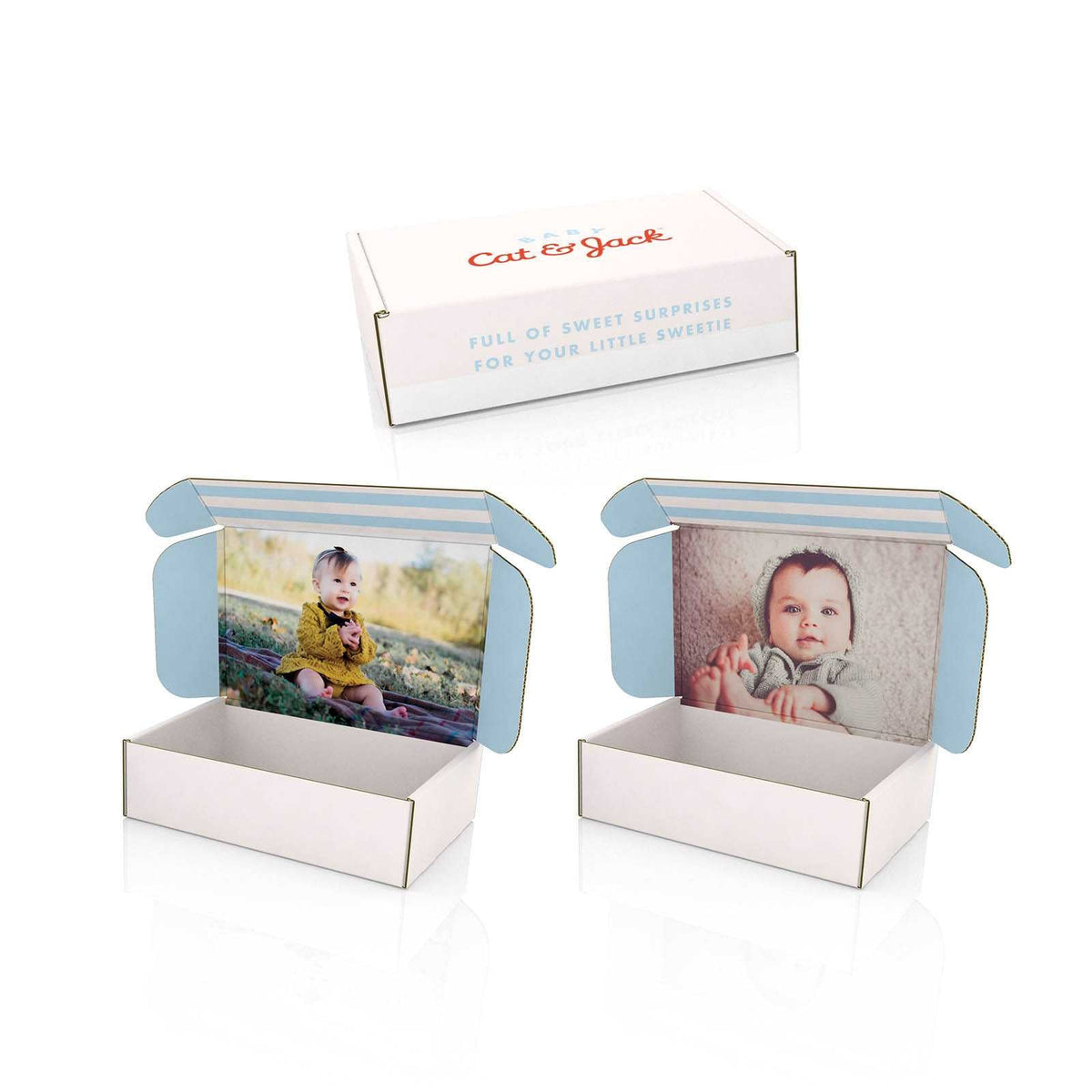 Designing Custom Branded Boxes
Enhancing Your Brand
A pain point for most brands is the cost of their packaging. The problem is they all take a one-size-fits-all approach to their design, and print that design over and over.
But what if you could have multiple design options, and change with the market? Well, designing digitally printed custom boxes means just that.
Now it's essential that all brands create a variety of box designs, including size and product variations, seasonal and promotional messaging, and even unique personalizations for customers.
Keep reading to learn more about designing custom boxes for your brand.
Determine Your Custom Box Needs
The first step to designing custom boxes is layout exactly what you need. By determining your dimensions, weight, and entire shipping plan, you can create a fully developed business plan.
What type of box do you need?
First, the type of packaging you need will vary depending on your product. This will be based on the size, shape, and weight. If you have a fragile product, you would need to consider a solution that is structurally safe and includes cushioning.
What are your dimensions?
Next, measure the height, width, and length of your product and everything you plan to put inside the box. Then, consider the type and size of any protective packaging inserts you plan to use. This will determine the size of the box you need.
Pro Tip: Minimize your box as much as possible. This will allow the product to fit safely, and avoid any shipping damages.
Perform a Packaging analysis.
A trusted partner can analyze your current packaging solution, or determine how efficient a new solution can be. You should be working with someone who can provide not just any solution, but the right solution.
How many units do you need?
Now consider the volume you need. How much do you plan to sell? Do you need 100 units? 500? 1,000? 10,000? Will you need recurring orders? This will directly affect your costs, and the more you order the better the deal you can get.
How can this be an extension of your brand?
Finally, this is a critical part of the first step. You want to create packaging that not only fits the packaging, but fits in with your overall branding and marketing strategy. From the color choices, the fonts, the information and images you include - these all tell the customer exactly "who you are" and shouldn't be chosen lightly.
Designing The Outside of Your Box
What elements of your brand need to be seen immediately?
In brick and mortar stores, customers won't open the box - so you need to tell them what's inside. It's best to assume that they know nothing about your product or brand.
Elements to include for brick and mortar stores:
Your logo and tagline
Social proof / quotes from satisfied customers
A high-res image of your product
Information Architecture
Brand or product story
For Retail Packaging that will become e-Commerce, you know your customers will open the box. So priorities of what to include are different, but still similar. It's best to use this situation for more brand awareness.
Elements to include for e-Commerce:
A logo that stands out on the package
Information Architecture
Brand or product story
An unboxing experience for the customer
Pro Tip: If you're not a designer, and don't have a design team - we provide access to our award winning in-house team in Creative Services.
Designing The Inside of Your Box
75% of consumers are influenced by package design! That means the inside of your packaging is just as important during the design process.
One thing you could include is product instructions or other materials for the consumer inside.
You should use the inside to tell your brand story, make your customer smile, or create something that encourages them to share the packaging on social media. More customers post a photo of products and packaging when it is an appealing design.
Pro Tip: Don't be afraid to switch to high-speed digital printing because it can help increase customer retention thanks to integrated marketing.
Over 90,000 people search for unboxing videos every month! Your audience is looking at what that experience is.
These videos build a community around your brand online. When customers watch someone else open your package, they want to get that product! All of these unboxing videos should tell you that you need to create better packaging.
Now what you can include to make their experience shareable? Customers today expect a branded experience from start to finish - the marketplace has responded, and so should you.
Define Your Brand Identity 
Packaging is sometimes the very first interaction your customers will have with your products. This is your chance to define your brand identity and make a statement about who you are, and who you are selling to.
Brand identity is all about clarity.
Key Questions
What is my product?
How is it different from similar products on the market?
Who is my target customer?
What is my company philosophy?
These answers will guide you doing your design process to create something that is consistent with your brand identity goals.
This will help define your packaging materials, shape, color, and size.
The 'Made For You' Approach
When designing your packaging, think about it from the target customer's perspective. Is this made for me? Does the packaging itself fit in line with your brand? Does it feel at home, in their home?
The payoff for branding that takes a targeted approach means that their product and packaging becomes an instagrammable experience. Rather than being a throwaway element, the packaging is part of the experience.
You move packaging from the commodity to become a personal experience that customers will come back for!
Custom Box Printing Options
At Bennett, we offer a variety of printing methods, but we are Digital Printing specialists. That's because we were one of the first manufacturers to invest in Digital, and that's put us ahead of the learning curve.
Check out the three main printing methods below:
Digital is the best choice for ultimate customization, creating multiple designs, and getting to market faster than your competition. No printing plates, which means no tooling costs, and no waiting for the plates to be created.
Flexographic Printing
The Flexo process applies colors to your packaging one-color at a time. This won't produce high quality images, but it is the most commonly used printing style. There are tooling costs, and production lead time though.
Lithographic Laminating
Finally, Litho involves printing a design directly onto the corrugated substrate. This produces a sleek image and is great for a premium look. The downsides are the up front costs for printing plates, and long project lead times. This is only good if you have one design and a large volume.
Related: Printing Coating Options
Our Specialty Machinery
At Bennett we have a wide range of machinery that make us unique in the marketplace.
High-Speed Digital Printers
This is an industry disruptor. We were one of the first in North America to invest in high speed digital printing, and we're glad we did. We have two digital printers, the Barberán Jetmaster 1260 & 1680. Capable of direct-to-corrugate printing using a high speed 6-color digital press.
Print up to 196" wide
2x Digital Printers
6-Color Extended Gamut
Jumbo Flexo 2-Color
Need large refrigerator sizes? No problem. We have one of the only Jumbos in North America, and it gives us the ability to make super wide designs!
Large Format Sizes
2-Color Capable
One of the only machines in North America
Hycorr 7-Color
This press has won us a number of awards thanks to its ability to print high quality graphics at an insanely high volume. Combined with our in-house ink kitchen techs, you get trusted high quality, every time.
UV Capable
State of the art Ink Matching & Manufacturing
Precise Registration
Specialty Folder Gluer
Our Bahmüller Turbox & Top-matcher is perfect for specialty packaging jobs. Allowing up to three separate substrates to be fed at high speed to create innovative packaging designs. This has helped us reduce hand labor and open the door to sustainable packaging solutions.
Up to 3 Substrates
Retail Ready Packaging
Ability to glue / join any design
ISTA Testing
International Safe Transit Association (ISTA) testing helps brands to create packaging that will protect against shock, vibration, compression and any other atmospheric hazards in the distribution environment.
This allows you to eliminate the need for multiple trial shipments, and get your products to market faster, while also ensuring their survival. It can also help you negotiate lower freight and cargo insurance rates - due to the confirmed lower risk of shipment damage.
We conduct a range of shipping tests (vibration, drop test, etc.) so that you are certified and ready to go. We partner with you through the entire process and make sure there aren't any surprises - and if there are we are ready to solve them.
Bennett Designs Custom Branded Boxes
Bennett is a premier packaging and retail displays manufacturing company striving to protect and promote our clients' products with customized corrugated solutions. When you work with us, you're part of the family. We will partner with you every step of the way.
With our fully-integrated design-to-delivery process, we can be the single supplier source. We are an award-winning manufacturer of virtually anything corrugate. We offer everything from plain brown shipping boxes to sophisticated, high-graphic printed point-of-purchase displays, and everything in between.
Frequently Asked Questions
What's the difference between "Solid Board" and "Corrugated Packaging"?
There are 2 main types of product packaging. Solid board (also referred to as carton board) is a solid material used to create boxes such as those used by Apple (for its iPhones / iPads etc.). Corrugated packaging is made from cardboard). Both are suitable for retail applications.
What packaging is best for my product?
The style of box chosen for your product depends on a number of factors. This includes the size, shape, weight, and fragility of your product - and even your target market. At Bennett, we can offer the full spectrum of box styles that will take your brand from plain to premium.
What Printing Styles do you offer?
We are able to produce Litho, Flexo, and specialize in Digital. We were one of the first manufacturers to invest in Digital Printing, and that's put us ahead of the curve. Typically customers think Digital is only useful for small runs, but Digital allows you to create printing variations and create multiple runs of different targeted designs - using some of the latest innovations in marketing!