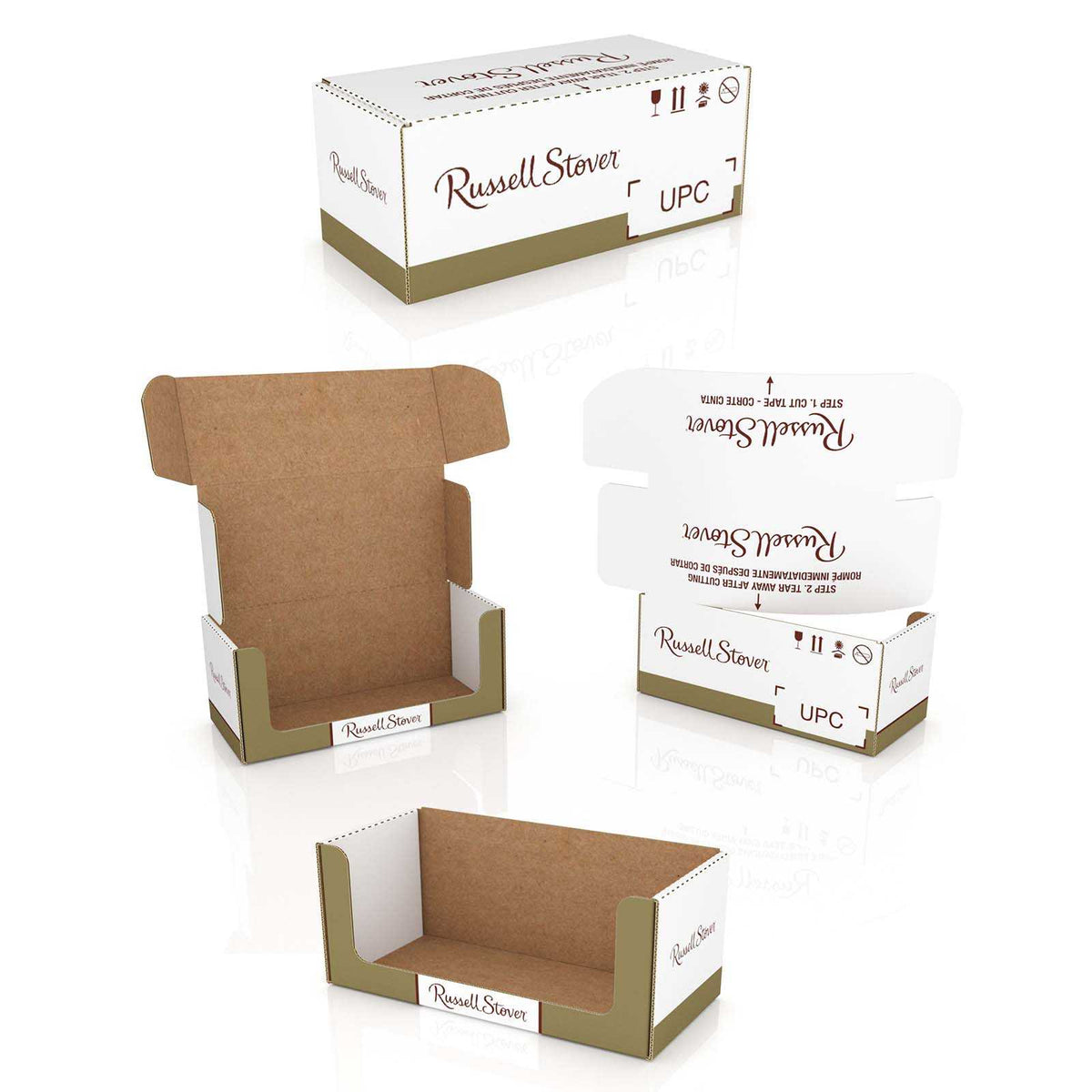 Retail-Ready Packaging Helps Get Product On Store Shelves
Retail-Ready Packaging For Today
Shelf-Ready Packaging or SRP, also referred to as Retail-Ready Packaging or RRP, is any corrugate self-shipper box that is easily converted to the store shelf. The demand for this type of packaging is growing for numerous reasons.
Shelf-Ready Packaging can help make the transition from pack-out to delivery to installation as smooth and easy as possible.
SRP is easily customizable, helps increase replenishment speed, increases brand awareness, allows for easy stocking and identifying, and assists in simple removal and disposal from the shelf with a minimal amount of material waste.
This option can also be beneficial for not just the supplier and retailer but for the consumer as well, in brand awareness and ease of shopping.
Shelf-Ready Packaging Options
The best type of retail packaging is solely based on what works best for your product and how you would like your product to be displayed on the shelf. For easy to remove packaging that will make sure your product retains its integrity, there are several considerations to take into account when transitioning to SRP.
For successful Retail-Ready Packaging, it is important to keep both the retailer's stocking process as well as the consumer's shopping experience in mind.
A huge benefit to this style of packaging is that it can be designed in any number of ways depending on the product it is set to accommodate.
Researching what has been created and worked well in the past is also important. Partnering with experts in this field can assist in making sure thorough planning is done from the beginning and retailer standards are met.
This will allow your package to be attention-grabbing, yet still durable enough to move straight from shipping, to the stockroom, then to the shelf.
Because SRP is custom and contains multiple parts compacted together it tends to be a little more expensive. With so many parts being glued together to create the custom packaging it can get pricey.
However, here at Bennett, we couple our Bahmueller specialty folder gluer with our award-winning digital printing capabilities to deliver a quality product very efficiently. Automated equipment and digital print reduces hand labor, production time, and keeps the overall cost as efficient as possible.
SRP Benefits the Brand
SRP can be very beneficial to the brand because it provides more information than traditional brown/kraft shipping boxes.
Packaging that can be placed directly onto the store shelves, act as a "mini display" that holds your product while giving consumers more information about the brand.
The RRP should be designed to represent your brand and the product it contains.
Using the real-estate on all four sides of the RRP, tell the story of your brand while promoting the specific product you're trying to sell. Your product text should be practical as well as clear and legible.
The packaging should assist shoppers in making decisions and finding solutions — and your printed artwork should inspire their selection.
In addition to branding, RRP gives CPG companies some control over the amount of product placed on the store shelves. When product arrives to retailers in brown shipping boxes, the product is removed from the shippers and placed on the shelves at the retailer's discretion.
Shipping the product in a Shelf Ready Package to the retailer indicates that the entire package is to be placed on the store shelf, not just a portion of the contents.
Retail Ready Packaging also allows for ease of replenishment. When the display is empty, it is easily disposable, therefore ensuring that your product will be restocked in a timely fashion and with a full RRP of product.
And the added bonus? They're great at increasing sales.
Ease of Identification and Opening
The key to good Shelf-Ready Packaging is simplicity. Your packaging should easily identify what it contains. Printing on all four sides of the tray, in multiple colors, allows for the clarity needed.
Traditional brown shipping boxes, typically printed on using black ink, take time to sort through and can easily get lost in a stockroom.
For SRP to be successful, it must not only be durable enough to withstand being shipped from the manufacturer to the retailer, but also be easy to open by the retailer's team.
With clearly printed packaging, your product will arrive on the shelves as efficiently and as controlled as possible.
It is also imperative that no box cutters are needed when opening the package. A common solution uses perforation on the packaging during the design and manufacturing process so the top can easily be torn off.
Perforation can sometimes diminish durability and leave rough edges. More recently, specialty equipment allows for multiple parts to be glued together in precision, to allow for stronger packaging and ease of opening.
The easier a product can be identified and opened, the easier the retailer will be able to stock. Consider pictorial opening instructions directly printed on the box or clearly visible pull tabs for the stocker to reference.
Related: 5 Design Tips for SRP
RRP Makes for Easy Stocking and Shelf Placement
Packaging that is placed directly on the shelf helps increase in-store replenishment speed. By providing a simple ship-to-shelf process, your product can be easily replenished by staff. The easier your product is to restock, the less likely your product will be out of stock and unavailable to your customers.
Replenishment speed is important to both your product's success and the retailer's success, so the easier you can make it for retail employees to restock, the more profit you will see in return. Being easy to locate in the store room is a big component of the stocking process and clearly defining the contents will ensure its correct placement.
Shelf-Ready Packaging, with full artwork, is imperative. Once the packaging is located, there is no need to unpack the product as with traditional stocking procedures.
Packaging that is placed directly on the shelf minimizes extra product shipping costs and making the stocking process quick.
The key to simple packaging is allowing for the package to transition smoothly from shipping to shelf. Another benefit to Shelf-Ready Packaging is the product is already contained within a "mini display" that can simply be placed on the shelf.
This expedites the stocking process, but also dictates the amount of the product that is being placed on the shelf and how it is displayed. Being able to have control over these aspects allows companies to prepare for the most successful customer experience.
Shelf-Ready Packaging Means Easier Shopping
No-barrier purchasing allows consumers to easily make their selection and minimize the time spent deciding. Barriers such as awkward packaging, rough edges, and visibility issues will create a bad experience for shoppers.
Bad shopping experiences will reflect directly on the product and eventually on the brand as a whole.
A package that's accessible means it's easy to identify, easy to open, and easy to shop. It's crucial to consider how a consumer will return the product to the packaging if they decide not to purchase.
Is it easy to place the product back into the container or are there designated slots for each product? It is important to acknowledge that not everyone who picks up your product will purchase it, so avoid challenging packaging that's impossible to reassemble.
Thoroughly preparing your package for shelf use keeps your product accessible and consistent.
Displaying the product clearly, advertising it plainly, and tying it back to the brand will help your consumer make quick associations and decisions. The shelf component should also provide information clearly and visibly yet still incite curiosity about the product.
Packaging should not present any barriers to the consumer and still be easy to remove and replace for store staff. The shopper facing portion should not include information intended solely for retailers such as the barcode or opening instructions.
The lip of the tray should be as small as possible to allow for shoppers to be able to easily access the product from any angle.
SRP Makes Disposal Easier
Another way Shelf-Ready Packaging can be beneficial is by reducing the amount of waste. A product being packaged within the display minimizes the amount of material wasted through the shipping process.
Retail-Ready Packaging is easily moved from shipping to shelving, and eventually to disposing in order to make the process easier for everyone.
Consider using recyclable or reusable materials to make your brand even more eco-friendly. Corrugated materials are strong and sustainable, making it the most efficient option.
Only a single portion of the packaging needs to be discarded after stocking the shelves, which helps reduce initial excess.
93% is recycled to make new boxes and recovered to create other paper products. Corrugate is the most recovered material and is made predominantly from trees making it a sustainable option for your product.
Your SRP should be easy to stock on the shelves but also easy to remove. Your package should be easily flattened so that the recycling process is as efficient as possible.
Related: 10 Tips To Make Your Packaging More Sustainable.
Keeping the disposal of your product as minimal effort as possible will assist your display in creating the cleanest journey. If your packaging uses mixed materials, it is essential to make sure they are separated easily to maximize the recyclable opportunities.
Considering all aspects of your packaging — from design to shipping to shelving to shopping to disposal — will help maximize the environmental impact of your product.
Retail Ready Packaging can assist in making these transitions as smooth as possible.
Bennett Makes Retail-Ready Packaging
Bennett is a premier packaging and retail displays manufacturing company striving to protect and promote our clients' products with customized corrugated solutions. With our fully-integrated design-to-delivery process, we can be the single supplier source.
We are an award-winning manufacturer of virtually anything corrugate. We offer everything from plain brown shipping boxes to sophisticated, high-graphic printed point-of-purchase displays, and everything in between.