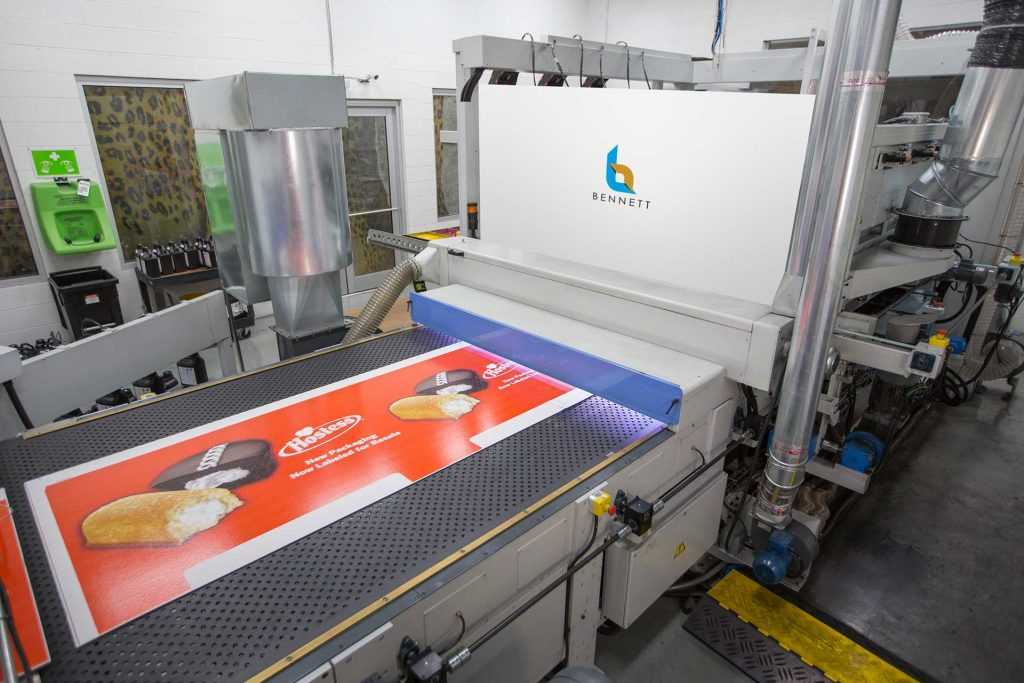 High-Speed Digital Print
High-Speed Digital Printing

We were one of the first to invest in this game-changing technology, which has given us a head-start in the learning curve for digital printing. Where the market has been defined by older methods, digital in now the de facto future.

We own and operate two Barberan High-Speed Digital Printers, the 1260 and 1680. These two printers allow us to split up orders between small and large sizes. We're able to print super wide sizes, up to 66" x 196". Using these methods we are able to cut down on production costs and time, sometimes by even removing a piece of machinery from the process entirely.
Comparing Printing Methods
Below is a quick look at digital compared to other printing methods.
Speed To Market
Digital Printing moves so fast that you can get artwork on the press and tested by the end of the day. Whether you need something for a presentation, or you're just curious about the results, we can give you samples faster than the competition.

We understand that creative teams get inspired on a daily basis, and using more complex marketing strategies can increase sales. Whether you're using targeted messaging, or seasonal imagery, changing the artwork in the Digital Printing process is as easy as uploading a file.

This means that you can change the artwork mid-production without having to take time to set up the machinery for a new run. That reduces costs and time, and enables your company to adjust to the marketplace on a daily basis.
Less Time And Costs
No tooling required. Using Digital means you don't have to purchase or wait for printing plates. This means you can use any custom design without issue.
Digital Printing allows us to have no minimum orders. Whether you have a number of printing variations, product and box size variations, or anything else, we can print them all without a minimum requirement. So if you're testing out a new product, or are reaching into new territory with a marketing strategy, Digital is the answer.
The cornerstone of Digital Printing is the single pass direct-to-corrugate process. This cuts down on production time, costs, and most importantly waste. Traditional printing methods have up to 15% process waste, while Digital can cut it down to 2%. That means this method is much more sustainable and green.
Eco-Friendly
If your company is looking to reduce its carbon footprint and be more environmentally responsible, then Digital truly is the answer. Our inks are water-based, which means they're much more eco-friendly than traditional printing methods. They're free from heavy metals and non-hazardous, non-toxic, and biodegradable.

Thanks to our Digital inks, we are now AIB International Certified - meaning we can handle with any and all food products. We worked hard for this certification, and won't be letting it go anytime soon.
Features
Super-wide, print up to 66" x 196" 
2 High Speed Digital Printers
6-Color extended gamut
Single pass direct-to-corrugate
No print variance
True production proofs
8,600 30" x 30" sheets / hour
Art files uploaded direct-to-press
No plates or litho production
No crush / reduction in stacking strength
Beyond CMYK
Our Barberan Digital Printers allow us to use 6-Color Extended Gamut – CMYK + OGV – which has a range of benefits. By adding three additional base inks into the process, solid colors that have traditionally been difficult to achieve can now match closer. For example, orange colors will look truer and cleaner when orange ink is introduced to a print process instead of trying to achieve a suitable match from mixing yellow and magenta inks together.

Extended gamut printing is the equivalent of Digital Printing with a fixed palette of 4, 5, 6 or 7 inks, only on a conventional press. Instead of pre-mixing inks, the inks are digitally pre-mixed in prepress. This even includes an accurate match of most brand colors!

You need to work with a printer that you can trust. We have a full time staff that meticulously maintains our Digital Printers, to ensure perfect results every time. This means there is no print variance between productions. Every single run is a perfect production proof.

The ability for a brand to utilize the full color spectrum, and be confident in the accuracy all the way to production is crucial in the modern market.