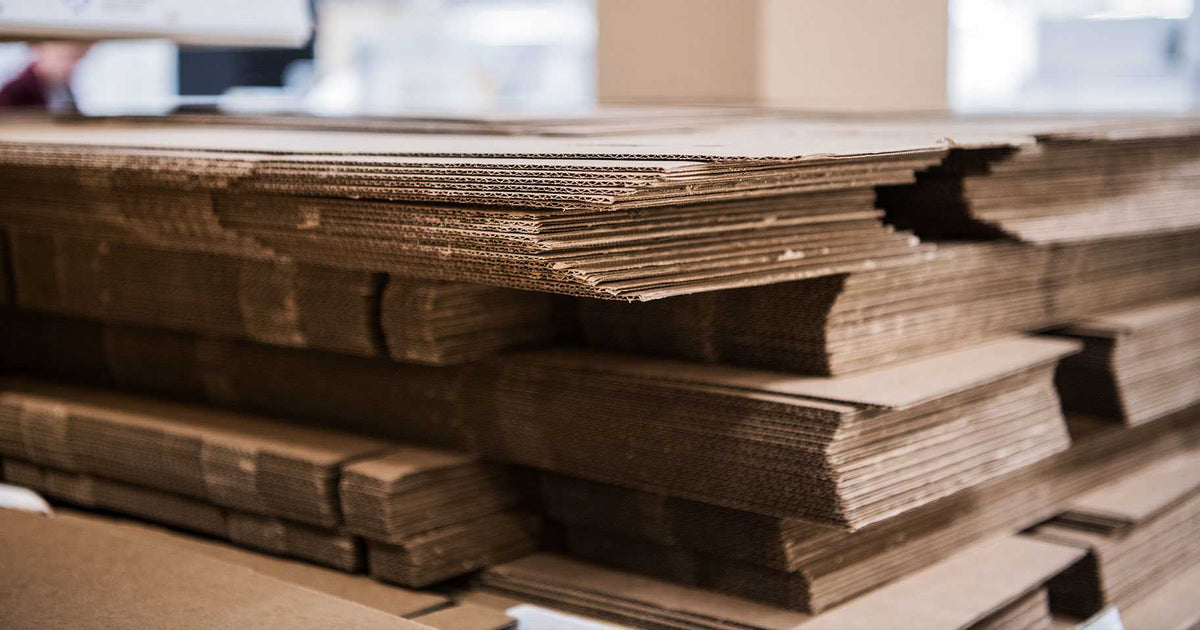 What is Corrugated Fiberboard?
Corrugated Definition
Corrugated fiberboard, most commonly referred to as "corrugated," by definition is a packaging material formed by gluing a fluted corrugated sheet, or the "medium," to one or two sheets of flat linerboard, or the "liner."
Corrugated fiberboard is often called "cardboard," although cardboard is a broader term that refers to any heavy paperboard, even if not corrugated.
Even though it is such a commonly used material, in order to understand benefits, it is important to know the composition as well as the different options corrugated can offer.
The composition, customization, packaging advantages, and eco-friendly benefits all work together to create an interesting material that is used to help products stand out every day.
Corrugated packaging has many benefits that can efficiently support your product.
Corrugated Composition
While corrugated packaging and cardboard are both primarily made of paper-based materials, they are completely different. Corrugated material is composed of an inside liner and outside liner with fluting in between. It is commonly used for shipping boxes, retail display, and retail packaging.
However, cardboard is any type of board made from heavy, one-layer paper-pulp stock. Popular uses of cardboard include cereal boxes and other smaller consumer goods.
Fluting was inspired by the architectural use of curves to span a given space in the strongest way. The inventors of corrugated fiberboard used this principle to resist bending and pressure from all directions.
Fluting is glued onto the paperboard to maximize the strength and durability of the material. Many different types of fluting are available ranging from 33 flutes per foot to 125 flutes per foot based on their purpose.
Corrugated fiberboard, also known as combined board, is composed of the liner and the medium, but there are many options for types using a variety of flute structures.
The type of structure affects the durability and graphics capabilities. Here are some commonly used flute structures:
Single Face: One sheet of flat linerboard is glued to one piece of corrugated paperboard.
Single Wall: One piece of corrugated paperboard is glued in between two sheets of flat linerboard.
Double Wall: Three sheets of flat linerboard with two pieces of corrugated paperboard glued in between.
Triple Wall: Four sheets of flat linerboard with three pieces of corrugated paperboard glued in between.
Corrugated Packaging Advantages
Corrugated fiberboard packaging has huge advantages including unmatched protection for the product, flexibility, and different treatments based on the need.
Protecting your product is one of the most important aspects in packaging, and corrugated is one of the most protective options. The fluting within the material allows for high durability and strength, to ensure your package arrives safely.
Combining structural soundness of the fluting with the cushioning qualities of a linerboard, corrugated packaging can be designed to fit specific protection needs. Protecting against shocks and jerks, it is extremely useful for the packaging of fragile objects.
Corrugated material is a versatile medium that is commonly used for packaging because of its widely varying capabilities. 
There is an infinite number of customizing possibilities from different shapes and uses to varying levels of protection. They can come in all sizes and be easily folded into whatever shape makes it a perfect fit.
There is a multitude of options for coatings and treatments that can support the product in the most efficient way possible. Combined board can be coated with different materials, and various adhesives can be selected in order to fit the specific needs of the product. It can even be made flame resistant if more protection is required.
Considering what options are most important for your product ensures that corrugated fiberboard will be the most successful option in getting your product from point A to point B.
Corrugated Is Cost-effective
Maximizing usage and minimizing waste allows for corrugated fiberboard to be the most economical choice for packaging. Lower raw material costs and the ability to be mass produced supports lower labor costs and lower machinery expenses.
Used widely for everything from shipping to packaging this material is readily available.
Minimize freight and handling costs by optimizing wasted space. Shipping costs are lower due to the lightweight material and higher fill density. Corrugated packaging can be customized so easily that it is simple to minimize the amount of excess material needed to get the job done.
Corrugated cartons serve as the most diverse solution to ensure your product remains safe in the most cost-effective manner. On a larger scale, it is used for shipping containers to display mediums in retail stores. It is also used residentially—think moving boxes and storage solutions.
Corrugated Is Sustainable
Corrugated fiberboard is the most recycled packaging material and is continuously being recycled more and more. In 1993 only 54% of corrugated packaging was recycled; however, in 2016 the recovery rate was up to 93%. Recycling corrugated materials helps reduce the amount of waste disposed of and allows for a constant cycle of reusable material.
Corrugated packaging is not only recyclable but it is also renewable. Most corrugated material is made up of 70% to 100% of recycled material. Further reducing the cost and environmental impact of producing corrugated fiberboard.
Another benefit of corrugated packaging is its ability to be reused. Many case styles are designed to be collapsible and used repeatedly. Consumers use this material through its entire life cycle, from moving and shipping packages to using old packaging pieces as floor protectors.
Then when it is no longer usable it can be easily recycled to continue the cycle.
Corrugated Is Customizable
Continuous research and investment into the industry of printing on corrugated materials have created incredible printing options. The capabilities are growing consistently, and technology is constantly being improved upon. Today we are able to provide sharper, cleaner graphics on corrugated fiberboard than ever before.
Corrugated material is a blank canvas that just requires the right technology to convey the most successful consumer engagement. Bennett offers multiple printing options based on your product's needs, including flexo, litho, and digital printing.
We are committed to providing state-of-the-art technology options that will assist in making sure your product is not only supported but communicating the most impactful message.
In fact, Bennett was the first to invest in a high-speed, single-pass, direct-to-corrugate, 6-color digital press of its kind in North America. With increasing demand, we strive to be at the top of our game and create innovative solutions perfect for every product.
To ensure your product makes the most impact when it reaches stores, pairing it with a custom corrugated retail display can help your product stand out. Corrugated displays are easily set-up making them perfect for temporary solutions, but also strong enough to be able to serve as a permanent solution.
The possibilities of corrugated fiberboard are endless, and so are the benefits it can provide. From shipping to shopping, this material plays an important role in all phases supporting your product.
Corrugated fiberboard is the most economical and natural choice for your packaging—protecting your product from harsh environments and conveying a strong message.
Bennett Makes Custom Boxes
Bennett is a premier packaging and retail displays manufacturing company striving to protect and promote our clients' products with customized corrugated solutions. With our fully-integrated design-to-delivery process, we can be the single supplier source.
We are an award-winning manufacturer of virtually anything corrugate. We offer everything from plain brown shipping boxes to sophisticated, high-graphic printed point-of-purchase displays, and everything in between.
Frequently Asked Questions
What Is Corrugated Cardboard?
Corrugated cardboard is made up of "corrugated paperboard", which contains rows of open-air columns inside the walls of the two or more layers. The open-air columns are what make the paper stronger than average cardboard, with the air acting as a cushion for any items inside of them. The ridges inside the wall offer strength and flexibility, which is usually needed in packaging.
What Does Corrugation Mean?
In cardboard packaging, corrugation is the process of combining layers of paper to create a structure that is strong enough for safe shipping / handling. A middle layer of paper is steamed, and pressed into a "wavy" shape to create columns of air in between the outer layers. This creates a "flute". Then all three layers are combined to create the shape of the box.