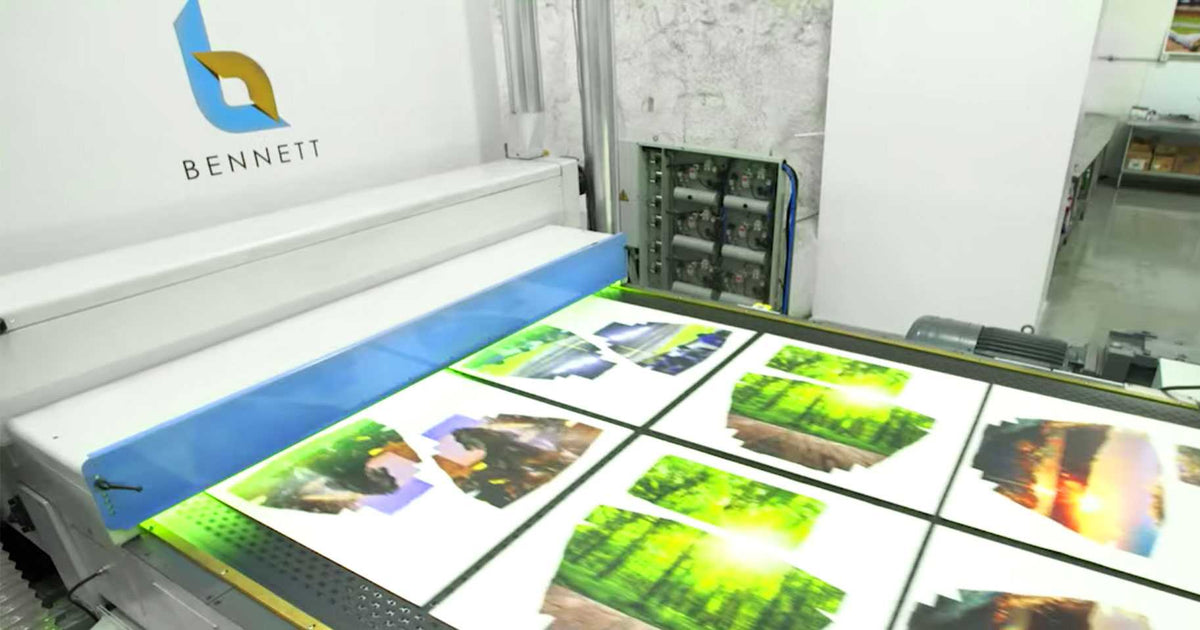 Our Digital Printers Are The Best For Retail Displays & Packaging
Digital Printing Revolution
Retail displays — and this includes any packaging you use for those displays — need to pop. As in "grab-a-shopper's-attention-from-the-end-of-an-aisle" pop. And you know how competitive the retail market is — not only does your product have to be great, but so does it's packaging and in-store display.
What's more, as digital retail displays continue to grow, physical displays are going to have work even harder to stand out.
That's where our high-speed digital printers come in. But first, let's explore the five primary types of printing that are available to you in the wonderful world of print.
When it comes to digital printing for corrugated retail displays and packaging, our capabilities are the best.
Digital Printing Made for Retail Displays & Packaging
We were the first in North America to invest in a high-speed, single-pass, direct-to-corrugate, six-color digital press. Our Barberan Jetmaster Digital Printer can print at speeds equal to litho and flexo printers. What's more, we can print sizes larger than any print plate or litho label.
Quick turnaround time
High-quality printing
Consistent premium visuals
We understand the increased need for digital printing in the corrugated industry, so we invested in both a 66-inch and 48-inch Barberan Jetmaster.
The 48-inch printer is terrific for projects that previously would have been printed on 40-inch offset presses. We use our larger printer for print jobs that cover a super wide 66" x 120" print area.
From retail-ready packaging to corrugated retail displays (such as stand-up displays with skirts), this printer is capable of print jobs we could only dream about delivering to our customers a few years ago.
We can keep writing about the benefits of these amazing digital printers, but you have to see it to believe it. Watch our Barberan Jetmaster 1680 printer's capabilities and how it can handle a huge pallet skirt display campaign (continuous printing with art change included!).
We like to call this: "where imagination meets corrugation."
Printing with our high-speed Barberan Jetmaster digital printer also means:
Six-color process capabilities
Single-pass direct-to-corrugate
Printing on sheets up to 66"x196"
No print plate investment
Ability to accommodate low-to-high-volume orders
All of this working together means our customers have a shorter lead between order placement and when the display's ready to hit the market. The quicker the turnaround, the sooner the opportunity to sell!
Retail displays that scream "Come take a look!" result in increased sales. In fact, great package printing can even offset a higher product price in the minds of consumers.
With just seconds to grab a shopper's attention in an ocean of retail display competitors, it's critical that your display and packaging beat them all.
Make yours look AWESOME with attention-grabbing graphics and the best printing options available.
Five Main Types of Printing
Lithography
When it comes to commercial printing needs, lithographic printing is the most used solution. And it's great if you are creating a single design to print over and over without much customization.
Often called "litho" or "offset" printing, this type of printing process is commonly used for printing labels (called "litho labels") and folding cartons. Retailers often use litho for things such as boxes for cosmetics, electronics, food, etc.
Litho delivers a high-quality print, often using a four-color process (such as four colors with one or two PMS colors). Print shops often can add coatings such as matte, soft-touch, or super high gloss for visual punch.
One of the main issues is the upfront costs for the printing plate, and the lead time for the project.
If you choose Litho, that means you're committing to waiting and a portion of your budget before you even get your first box.
If you are looking for a high volume production run of a single design, this is the way to go.
The downside of litho is that printers often need to make custom printing plates and thus require high minimums. And, perhaps most importantly, the printing surface must be flat.
High Speed Digital Printing
Bennett's digital presses are game changing for the custom retail packaging industry.
While other companies might tell you that Digital isn't competitive when running large orders, what they aren't telling you is with Digital you can run a variety of designs without needing to pay for, or wait for, new printing plates to be made.
Digital has been growing in the industry, but only a few brands have actually started to take advantage of this huge opportunity.
Imagine creating regional messaging, designs for different stores, seasonal or product variation sizes - all without additional costs.
We were the first to invest in a high-speed, single-pass, direct-to-corrugate, 6-color digital press of its kind in North America. If you want to learn more, check out our page on Digital.
Flexography
Flexographic printing will bring your cost of printing down, and tooling costs are typically lower. It has a fast turnaround time that can use both water and oil-based inks.
But, compared to Lithography and Digital, Flexography has a noticeably lower printing quality.
It cannot create photo quality images, and smooth colors or gradients will have visible banding.
The colors aren't as vibrant or crisp as the other two options, but this format of printing is inexpensive. It also doesn't require a lot of attention to detail, and can be produced at very high speed.
Rotogravure
Also used for stand-up pouches, corrugated boxes, and folding cartons, rotogravure can produce a premium print quality, print photo images easily (PMS colors are easily added to the four-color print process), and print in high volumes with no deterioration of image quality.
However, long lead times are needed, and large minimums are required to justify the cost due to the necessary high investment in tooling.
Silkscreen
Often used for promotional items (think tote bags, coffee mugs, and t-shirts), silkscreen printing also is used for labels, prototypes, and folding labels. Set-up costs are low, and print jobs can be in smaller volumes.
Unfortunately, it's not ideal for high quantities, and silkscreening results aren't as clean looking and don't reproduce photo-quality images well.
Digital Printing with Bennett
You know you need print work done, right? It's just a matter of choosing a printer. As you shop around, consider us. No matter what printing work you need, we can help. Because we are a full-service company and have in-house capabilities, the sky's the limit.
What sets us apart from other digital printing companies? Our relationship. Before doing any work, we'll assess your needs and goals. Then we'll recommend solutions, including printing processes and gluing systems that will provide the best possible printing results for your budget and project.
We're not just your printer — we're your retail display and packing partner.